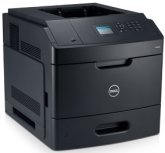 This video covers how to install the maintenance kit in the Dell S5830dn printer. There are also instructions on how to reset the roller kit maintenance counter.
You may see Error code 80 Maintenance Kit – end of life warning when it's time to change the maintenance kit.
Other messages you may see are as follows:
Maintenance kit – end of life
Maintenance kit – late warning
Maintenance kit – nearly low
Roller Kit – end of life
Here are the part numbers for the full kit, fuser and individual components:
DELL-S5830-MK  Maintenance Kit for Dell S5830dn
DELL-18DVM Fuser kit
DELL-RRP09  Paper Pick Roller
DELL-PH15C Transfer Roller
DELL-TTTYK Separation
We can also assist over the phone with technical support on installing these items. The maintenance kit can be ordered on our Dell fuser and maintenance kit page.
The end of the video also shows how to perform a reset on the maintenance counter.  Here is the quick summary on resetting the counter:
 Hold in the #2 and  #6 and power on the printer.
Hold the keys for about 10-15 seconds while it is powering up.
The config menu will appear and then arrow down to "Reset Maintenance Counter"
Press "OK"  on  Reset Maintenance Counter.
Arrow to "Exit Config Menu" and press "OK"
The printer will reset and come back up in the ready state.
If you don't need the full maintenance kit we also offer a roller kit for these models and
here is a store link to order:
Part #: QSP-AKP5400 — ROLLER MAINTENANCE KIT DELL S5830DN
The roller kit is very easy to install and the video also covers the installation of each piece. The kit has pickup rollers and separation roller replacements for up to three trays and one transfer roller in the main unit. You want to be sure not to handle the transfer roller with your bare hands as the oil from your skin will damage to surface and possibly leave a mark on printed pages.  The transfer roller does come with a paper wrapper which is easily slipped off with a pull tab once you snap it into place.